We are open and ready to assist with graduations, weddings, and small gatherings. Our show room is open by appointment. Will call clients are welcome and we ask that you call on arrival for pick up and drop off and we will meet you at your vehicle to service you.
These backyard gatherings can be made easier for the host, thus more enjoyable for guests with some simple party rental items you can easily pick up and drop off.
Parents can create a celebratory event on their own using traditional party rental items, making the day special even if it is a small gathering or even just close family.
Ultimate Events makes the party rental option easier and safer for hosts of residential parties by offering will-call pickup, meeting you at your car for both pick up and drop off.
Tent Size Calculator
What size of a tent do you need? Use our calculator to help you determine the size of tent (or room) that will work the best for you and your event. It's everything you need to plan your event!
Catalog Downloads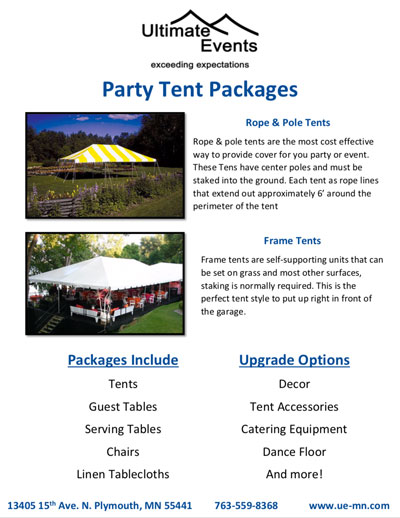 These packages include tents, chairs and tables for seating and serving food plus linen tablecloths to top off your event. Our tents come in a variety of sizes and colors with options for lighting, sidewall, dance floors and more.